Practical information
Our reception points
You're passing through our region and looking for information to organise your stay? Come and meet us in one of our tourist reception points, and we'll be delighted to help you!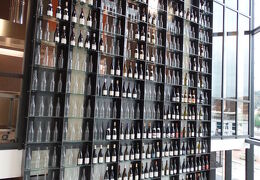 Pavillon du tourisme
The tourism pavilion: 250m2 at the service of your business.
See the page
Coming here and getting about
The Vienne Condrieu Tourism area enjoys a special position within the Auvergne-Rhône-Alpes region. Indeed, it opens easily to the east onto the Alps and the Jura, and benefits from the southern influences of the Drôme and Ardèche. Crossed by the A7 motorway, it remains the first step towards the southern sun… Moreover, the town of Vienne enjoys a strategic position as a crossroads, close to the major European North/South and East/West communication axes.
Coming by car / Parking in Vienne
Vienne or Condrieu can be reached from the A7 (or A43 from the east). To park in Vienne, please consult the list of car parks.
Coming by plane
Lyon-Saint-Exupéry airport is the most convenient way to reach Vienne by air. You can then book a taxi to Vienne, or take the Rhône Express shuttle to Lyon Part-Dieu station (30 minutes), then take a train to Vienne (20 minutes). You can also land at Grenoble or Saint-Etienne.
Coming by train
Book your journey on SNCF Connect: Travel by TGV to Lyon or Valence, then by regional TER to Vienne. If you visit the vineyards, you can also stop at the station of "St Clair les Roches", just 1.5km from Condrieu. Check out the timetables and tariffs on the TER Auvergne-Rhône-Alpes website. The Vienne Tourism Pavilion is 400 metres from the station and access to the ViaRhôna bicycle route is 800 metres away.
Coming and getting around by bus
The L'va network lets you travel by bus around the Vienne Condrieu Agglomeration. Some Cars du Rhône lines also offer trips to Vienne, Saint-Romain-en-Gal and the surrounding towns.